DISCLAIMER:
Although great care has been taken to ensure all available links on This site are safe, we accept no responsibility for any losses or damages incurred by anyone using any of the posted links on this site. You may need to download a FREE Mp3 Player or Real Player (See Above) in order to listen to any of these files. Also, Please don't forget to turn on the speakers and turn up the volume control on your computer.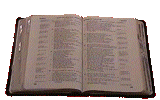 To hear the Bible in audio format click on the bible icon above.
CLICK ON A NAME LISTED BELOW TO LINK TO THEIR AUDIO FILES AND THEN CLICK ON THE MESSAGE OF YOUR CHOICE FROM A WIDE VARIETY OF TOPICS LISTED BY EACH.